2022 ASHoF Induction Celebration Evening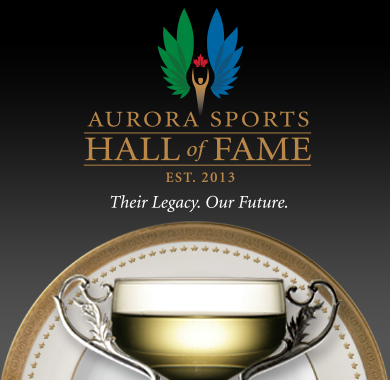 NOVEMBER 10, 2022
Thursday at 5:30 - 9:30
Royal Venetian Banquet Hall
400 Industrial Pkwy S. L4G 6W8
Aurora, ON

The Aurora Sports Hall of Fame (ASHoF) is a celebration of sport history and excellence, recognizing sport's important place in Aurora. It's a place of history, to stimulate pride in our community's accomplishments, of education, with more than 90 artifacts to showcase how far our Inductees have come, and of community, where young and old can gather to appreciate Aurora's rich culture and heritage.

ASHoF's Induction Celebration Evening is one of the community's premiere events showcasing those who have been instrumental in raising the profile of sports in Aurora. This celebration not only honours Athletes, Coaches and Builders, it is also an opportunity to inspire future generations of athletes in our community. It shows kids that they can chase their dreams and, if they work hard enough, they can be successful at whatever they do.

As part of the special evening, funds are raised to support continued growth of ASHoF, open to all at the Stronach Aurora Recreation Complex. It also helps support ASHoF's Education program, which provides education tools, field trips and school visits to groups from grades 1 to 8. Future plans for this program include expanded mental health and sport education.

To learn more about the Aurora Sports Hall of Fame, visit www.aurorashof.ca



"Class of 2022 Inductees"


Marco Di Girolamo– Athlete, Rugby
Since the age of 15, Marco has excelled at the sport of Rugby and is among the elite players in the game across the globe – including the 2003 Rugby World Cup, the Commonwealth Games in Manchester and World Games in Japan. He's represented Canada in both 7s and 15s rugby including World Cup appearances in both categories of the sport and captained the National Men's 7s program 34 times. Marco has been a member of the Barbarians Rugby Club since 1993 where he has led the club to five straight league championship titles and three provincial cups and has the honour of being named the player of the year 10 times with the Aurora Barbarians.



Dave Giroux – Builder, Baseball
Aurora Minor Baseball Association President for over 10 years, Dave helped the organization triple in size, raised thousands of dollars to help keep the cost of participation low and secured grants for coaches and players clinics offered at the Aurora Sports Dome. He was also the first President and one of the founding members of the York Simcoe Interlock Baseball Association and was one of the founders of Sport Aurora. As part of the Canadian Sport for Life movement, he helped develop a new form of baseball called "BlastBall" to encourage children as young as 5 years of age to engage in healthy and physical activity.





Janice Jones - Athlete, Swimming
This record breaking athlete, has numerous podium finishes at the National and International level, including a silver medal at the Pan American Games as part of the Medley relay team. Jan joined Masters Swimming in 1991 and has since set Ontario and National records in the 50,100,and 200 breaststroke as well as Silver and Bronze at the FINA World Masters Championships in 93 & 94





Colin Nisbet – Builder, Golf
Colin S. 'Pop' Nisbet moved to Aurora, along with his wife Beverley and 3 children and operated a Greenhouse family business beside the 9-hole Aurora Golf Course, which Pop felt needed more attention. He purchased the course and renamed it the Highlands Golf & Country Club - "Aurora's First Place of Beauty and Pleasure". After growth and the sale of the course, Pops moved on to purchase Lloyd Farm at Leslie and Vandorf, offering free play in exchange for opinions on the course! Many years later, Westview Golf Club continues to be a success, thanks to his passion for golf and this community. That decision to purchase the run-down 9-hole course forever changed the face of golf in the Town of Aurora.

To learn more about the Aurora Sports Hall of Fame, visit www.aurorashof.ca